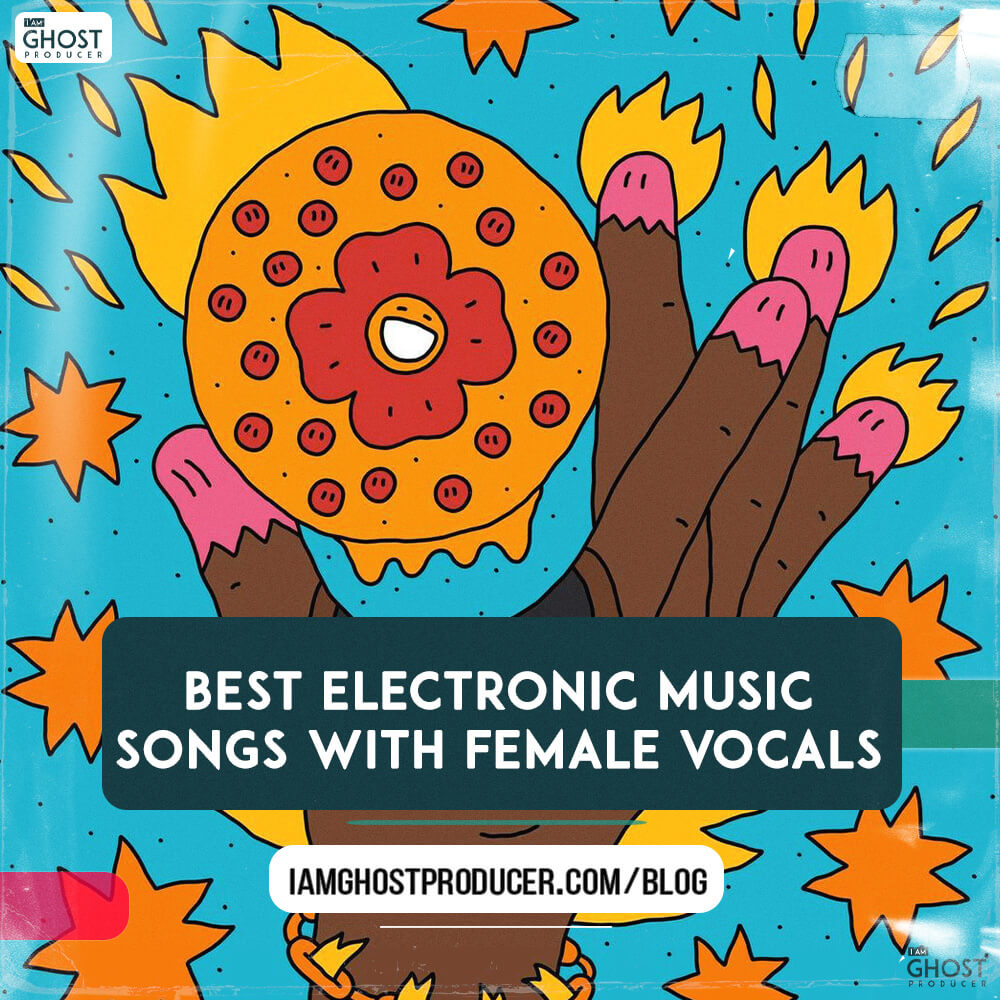 Electric Ladies: The 7 Best Electronic Music Songs Featuring Female Vocals
Do you love the best Electronic Music songs with female vocals? Then you'll love our list of the seven greatest tunes in this genre. We've compiled some of the best examples of Electronic Music that feature the powerful and unique vocal talents of women.
From classic singles to contemporary tracks, you're sure to find a song that you'll want to add to your playlist. These tracks not only showcase the vocal prowess of these amazing artists but also demonstrate how Electronic Music has become an even more inclusive genre.
So, if you're looking to expand your music collection, be sure to buy exclusive music in our ghost production shop. Keep reading to discover our top picks for the best Electronic Music songs with female vocals!
1)      Grimes – Oblivion
Grimes, aka Claire Boucher, is a woman who's making waves in the electronic music scene. Her hit song "Oblivion" is one of the biggest tracks in her discography and for good reason. The song features catchy synth beats and Boucher's ethereal vocals, creating a unique and dreamy atmosphere.
What's particularly impressive about "Oblivion" is that Boucher not only produced the track herself, but she also directed the music video. The video shows her confidently dancing and singing in a male-dominated environment, showcasing the power and talent of women in the industry.
It's no wonder "Oblivion" is a favorite among deejays and fans alike. It's a testament to the talent of women in electronic music, and a reminder that girls can rock just as hard as anyone else in the Top charts.
2)      Purity Ring – Fineshrine
Among the standout tracks from Canadian electronic duo Purity Ring, "Fineshrine" features the hauntingly beautiful vocals of Megan James. The song's mesmerizing melody is complemented perfectly by James' delicate voice, creating an otherworldly atmosphere that's impossible to ignore.
With its captivating lyrics and enchanting production, "Fineshrine" is a truly unforgettable electronic track. Its popularity has only grown since its release in 2012, and it remains a fan favorite among both Purity Ring fans and electronic music enthusiasts.
3)      Hundred Waters – Show Me Love
Hundred Waters is a group that's hard to define. Their sound blends elements of electronic, folk, and indie rock, creating a unique style that's all their own. "Show Me Love" is a prime example of their artistic sensibilities. The song features a beautiful vocal performance from lead singer Nicole Miglis, who brings emotional weight to the track's introspective lyrics.
The production is equally impressive, with its intricate electronic flourishes and lush instrumentation. It's a song that speaks to the human desire for connection and intimacy, and it does so with a stunning degree of beauty and grace. "Show Me Love" is a true masterpiece of modern electronic music.
4)      St. Vincent – Digital Witness
One of the biggest names in the electronic music scene, St. Vincent is known for her unique style and electrifying performances. Her hit song "Digital Witness" is a perfect example of how female vocals can add a new dimension to electronic music. With a powerful voice that cuts through the electronic beats, St. Vincent shows that women can be just as capable as male deejays when it comes to creating unforgettable electronic music.
"Digital Witness" is a must-listen for anyone who loves electronic music or appreciates the contributions of female musicians to this genre. Girls and women alike will find inspiration in St. Vincent's music and her fearless approach to electronic music.
5)      Little Dragon – Ritual Union
Swedish electronic band Little Dragon fronted by lead woman Yukimi Nagano knows how to blend soulful R&B and upbeat electronica in their music. Their song Ritual Union is a prime example of that fusion, with Nagano's enchanting vocals layered over a catchy electronic beat.
The lyrics speak to the struggles of a woman navigating relationships and society's expectations. Nagano's ability to capture the complexities of being a woman in the modern world is what makes Ritual Union a standout track, and a must-listen for girls and women alike.
6)      FKA Twigs – Two Weeks
FKA Twigs is an English singer, songwriter, and dancer who is known for her experimental and ethereal style of music. Her song "Two Weeks" is a perfect example of her unique blend of electronic, R&B, and pop sounds. The song features her soaring vocals over a dreamy beat, with lyrics that describe a powerful love that consumes everything else in the world.
"Two Weeks" is a standout track from FKA Twigs' debut album, LP1, which was released in 2014 to critical acclaim. The song has been praised for its complex production and layered vocals, with many fans considering it to be one of her best works.
FKA Twigs has become a major force in the world of electronic music, with her innovative approach to sound and performance inspiring many other artists. "Two Weeks" is just one example of her creative genius and serves as a reminder of the power of female vocals in electronic music.
7)      Bjork – All Is Full Of Love
Bjork is an Icelandic singer and songwriter known for her unique voice and avant-garde approach to music. Her song "All Is Full Of Love" is a stunning example of her creativity and skill. The song combines electronic beats and ambient sounds with Bjork's ethereal vocals, creating a dreamy and otherworldly atmosphere.
The lyrics, which explore themes of love and technology, are both haunting and beautiful. "All Is Full Of Love" is a masterpiece of electronic music and a testament to Bjork's incredible talent as an artist.
Why Female Vocals in Electronic Music Are So Captivating
Female vocals in electronic music have been capturing audiences for years. From the biggest festivals to the top charts, female vocalists have been making their mark on the industry, and for good reason.
Firstly, female vocals can bring a certain delicacy to the electronic sound that can often be missing. This softness can create a beautiful contrast to the electronic beats and melodies and can make the track more emotionally resonant.
Secondly, female vocals often bring a more nuanced and unique perspective to the lyrics. This can make the track more thought-provoking and captivating for the listener.
Lastly, female vocalists are often pioneers in the genre, pushing boundaries and exploring new sounds. Their creative influence can lead to exciting collaborations with deejays and producers, resulting in some of the most innovative and interesting electronic tracks.
Conclusion
Female vocals have been an integral part of electronic music for years now, providing an unparalleled sense of emotion and expression. From Grimes's "Oblivion" to Bjork's "All Is Full Of Love" which remains a timeless classic and Little Dragon's haunting "Ritual Union" these artists showcase the versatility and strength of electronic music combined with female voices. These songs serve as a reminder of the incredible talent of women in electronic music and why their contributions should always be celebrated.