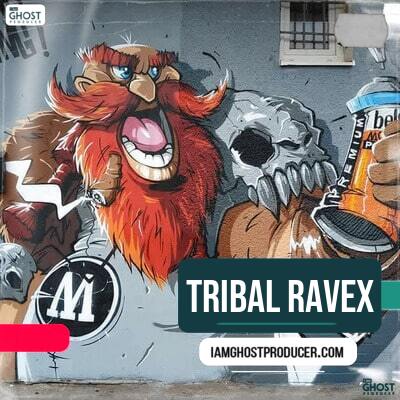 Tribal Ravex
Out of stock
Key

:

C

BPM

:

124

Software (Daw)

This track was made in:

:

-

Duration

Length. Timing of the track

:

Genre

The style in which the track is made

:

Afro House, House, Latin House, Tech House

Author

:

Ghost Producer #118

Project

The list of all files that a customer receives after the purchase doesn't include the project. But you may purchase it for extra payment (+ $50). To do that, you need to tick 'Buy the Project' when buying a track in the Check Out section.

:

For sale for 50$

Rights:

Receive 100% of rights provided with a full-fledged music contract.

The contract ensures owning full rights to the track

Once you've bought it, we will send you a contract and you will get the rights entirely provided to you.

Use the track any way you want:

earn money from it by releasing it on music platforms and labels
publish on any social media
use it literally where you want
play on gigs and concerts

100% rights with a full contract

Uniqueness:

Be the only one to have it.

Each track is individual and has no copies.

Exclusiveness:

All the instruments, melodies and arrangements have been 100% made by the Ghost Producer.

No royalty-free loops (except the vocals) have been used to create any part of the instrumental of this track.

100% made by the Ghost Producer.
This video will be deleted after the purchase of the track
What genres does this track refer to?
Tech House, Tribal House, Tribal Tech
What style of famous artists does this track resemble?
SLLASH AND DOPPE, DAVID TORT, MELE, Robbie Rivera
What labels may be interested in the release?
Moganga, Safe Records, HotL Records, Juicy Music
Stem files are individual tracks of your song in wav format, for example (Kick, Clap, Percussion, Chord, Bass, Fxs, Synth, Pads, Snare and etc).

You can import them into your DAW (Fl, Cubase, Ableton, Logic and etc) and reproduce a song.

Stem Files are used for collaboration with other producers and engineers; specifically for re-mixing and mastering.

All Stem files (.wav)

Midi are notes, chords for the melodies of a track.

All MIDI sequences

The contract will acknowledge you as a full owner of a track.

100% rights with a full contract

There are two folders: Master and Unmaster:

The Master folder includes all the mastered versions of a track
The Unmaster folder has all the unmastered versions of a track

Mastered and Unmastered versions

Original – this is a full version of a track. It is also called Extended mix.

Radio – is a radio version of a track. As a rule, that is the main part of the track without Intro and Outro usually used for radio.

Instrumental Mix – that is the version of a track without any vocals. If the track doesn't have vocals, accordingly, the Instrumental version will not be included

Original, Radio and instrumental mixes

We can't write lyrics for every vocal track. Since not everyone needs it. You can hire any freelance copywriter and he will write the lyrics for you (words for vocals). Just send him the vocal track of the track (you have it in the info folder).

The lyrics to the vocals is NOT available
This track is selling without the project.
Vocal type:
Licensed by a free royalty use sample pack

It means that the vocals were taken or bought from vocal sample libraries.

All of them are royalty-free.

And you can use them literally everywhere.

You can release tracks with such vocals on record labels and play them anywhere you desire.

But you should know that other producers may use this vocal in their songs too.

The vocal is not exclusive and you may hear it in other tracks.

Vocal sample pack:
Maintain Replay Records - Noise Tribe - Secret Grooves Vol. 1
The lyrics:

We can't write lyrics for every vocal track. Since not everyone needs it. You can hire any freelance copywriter and he will write the lyrics for you (words for vocals). Just send him the vocal track of the track (you have it in the info folder).

The lyrics to the vocals is NOT available
After you've completed the purchase, you will be redicted to the page where you can download all the files. Also, you will get a letter to your email (that you added above), which also includes a direct link for downloading all files. If you didn't receive the letter, please, check your Spam folder.
How to purchase the track?
In order to purchase the track, you may use one of the following methods: payment via your card or PayPal
It's stated that the track contains vocals from royalty-free libraries. Could you tell more about it?
Everything's simple: these vocals aren't 100% original, which means that they can be found in other tracks. No worries, though. This is how musical industry works.
Is it possible to release the track as if it was produced by me?
Sure. The track is yours, and you are free to release it using your pseudonym or name. You are an owner of it, so use it the way you want.
Am I allowed to include this track to my videos on Youtube or for streams?
Yes, the track you've purchased can be used in Youtube videos and streaming platforms. There won't be any copyright-related issues.
Is it true that the track is completely original?
Yeah, that is true. The following track is fully unique. The only exception are its vocals that are royalty-free. One can hear them in several songs, and that is absolutely okay.
When I purchase the track, what else is going to be included?
After you've bought the track, we will send you:
Mastered and unmastered versions of the full track. The instrumental version will also include mastered and unmastered ones.
All available parts of the track recorded in a WAV format. They are also called 'Stem files'.
MIDI files that the melodies of the track are based on.
Will I be able to release this track easily on streaming platforms? Particularly, on Apple Music, Spotify, Beatport, Tidal, and others?
Yeah, this track may be released on any of the mentioned streaming platforms. However, remember that uploading of it is possible via a distributor only. For that purpose, you may resort to a record label or an aggregate service.
You will become a full-fledged owner of all rights to have the track. Only you decide which way to use it. Publish, release, or sign – feel free to choose.
Is it possible to use the track for promotional purposes? For example, advertising campagins or trailers?
Once you've bought the track, you start to own all rights to it. In other words, you're free to include it into promo materials, without worrying about copyright issues.
Once you've ordered a Premium ghost production, it can also be used in any kind of advertisement materials, including trailers.
I stream on Twitch. Will I be able to use the track during sessions and not receive any copyright problems?
Of course, after the purchase, you receive all the rights to it and fully own the song. You'll receive all the revenues from it and may include the track anywhere.
YOU MAY ALSO LIKE: